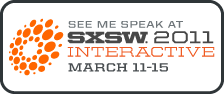 From last year's SXSH to this year's official health track in SXSW, healthcare IT, especially consumer driven healthcare, has become an increasingly important theme of the massive SXSW conferences. See below for the health track talks on
Sunday, March 13th
Monday, March 14th
Notice that all the talks on the 13th are in the Hilton Hotel, which is right across street from the Convention Center. I actually liked the hotel location better — it is more intimate and better furnished.
If you are coming to town, please drop us a note (email: michael AT ringful dot com) and we will show you some some local austinite favorite places to go to!
BTW, I will be speaking at SXSW this year again in the "Mobile Future 15″ sessions. My topic is How to get your app approved, which draws from own extensive experience battling Apple, BlackBerry, and Verizon app stores. It is 3/14 (pi day!!) 4:45pm at Ballroom E in the Austin Convention Center. Drop by when you get a chance!